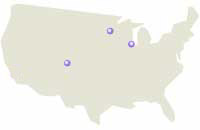 Diverse, Responsive, Professional
From our associated offices in Minnesota, Colorado, and Chicago, we deliver a broad range of capability, experience and resources in visual communications using innovative design methodologies and technologies. In today's economy design services must solve many different types of problems in cost effective ways and often in a very timely manner. Through small and medium size offices with reasonable overheads we are able to extend our services to a broad audience in a very responsible and responsive manner resulting in superior design products that meet the time and budget demands of our clients.
Our design management staff has over 60 years combined experience in visual communications including corporate identity and brand development, product promotion, environmental graphics and exhibit design. We have developed innovative solutions to problems in many industries including transportation, medical, financial, food, entertainment, hospitality, and e-comerce.
We bring clear thinking, great ideas and an experienced team of designers and design managers together to get the job done.